Home Fires 25cm x 25cm / 10" x 10" $350.00
Cracks in the Darkness 25cm x 25cm / 10" x 10" $350.00
Controlling the Rage 25cm x 25cm / 10" x 10" $350.00
Eclipse 35cm x 35cm / 14" x 14" $425.00
Chartreuse 30cm x 40cm / 12" x 16" Available at Cornerstone Canadian Art & Craft, Kingston, ON
Water Music 30cm x 40cm / 12" x 16" Available at Cornerstone Canadian Art & Craft, Kingston, ON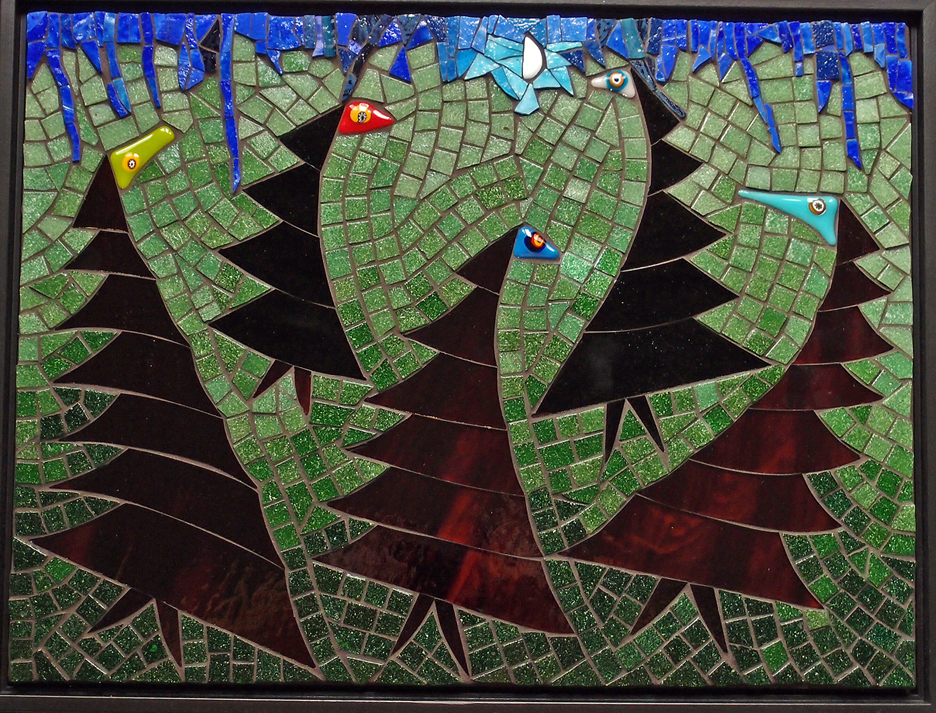 Dancing in the Moonlight 30cm x 40cm / 12" x 16" SOLD
Mosaic bicycle gear with copper pennies and smalti Great Lakes to represent Canada. Submitted to the Ruins Project, an outdoor mosaic museum "amidst the ruins of a former coal mine" in Fayette County, Pennsylvania.
My mosaic bicycle gear in situ at the Ruins Project. Photo by Sager Mosaics. www.ruins.sagermosaics.com
A heart with a maple leaf to represent Canada on the magnificent Diversity Mural in Orlando, Florida.
My heart in situ at the Diversity Mural. The mural is a rainbow of more that 700 mosaic hearts contributed by US and international artists. www. lunamosaicarts.com/pages/diversity-mural-of-orlando